Ballyhoo pr wins 'best new business' at corby awards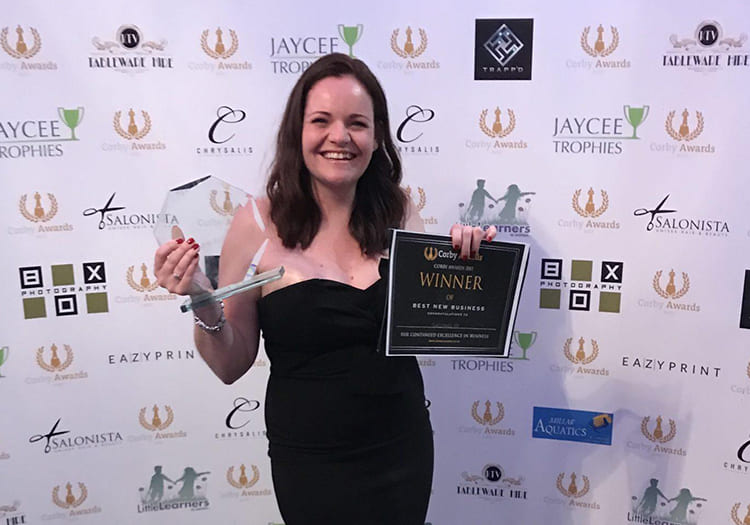 Ballyhoo PR is celebrating after scooping the 'Best New Business' Award at the Corby Awards.
Ballyhoo PR was one of ten businesses established since January 2016 to make the finals in the 'Best New Business' category, which saw a wide range of industry sectors represented including hair and beauty, carpentry, publishing and nutrition.
Judges praised Ballyhoo PR, which started operating in May 2016, for offering affordable PR and copywriting services to many small to medium-sized businesses as and when they like without tying them into a monthly contract, helping them to raise the profile of their businesses, brands and products at local, national and international levels.
Emma Speirs, Director of Ballyhoo PR, said: "To win this award after seeing the quality of the finalists in this category was a bit of a shock!
"I started Ballyhoo PR with a vision of helping businesses at the smaller end of the scale to shout about their successes after hearing about so many companies that were on my doorstep offering great services or producing innovative products and nobody knew about them. I wanted to use my years of experience in PR to give them a voice at an affordable price and let them know that PR isn't just a luxury reserved for larger enterprises.
"Since then, Ballyhoo PR has worked with more than 40 unique clients, with most of those based locally in Northamptonshire, through writing effective marketing materials and website copy, arranging launches and official openings, and helping them to get their stories out in the media.
"Winning this award is a recognition of that vision and service and I couldn't be prouder."
Latest Articles
Measuring PR impact can be a tricky task. There are no specific metrics that prove whether a particular approach or ...