Ballyhoo PR Academy has lift off at MK Business Showcase!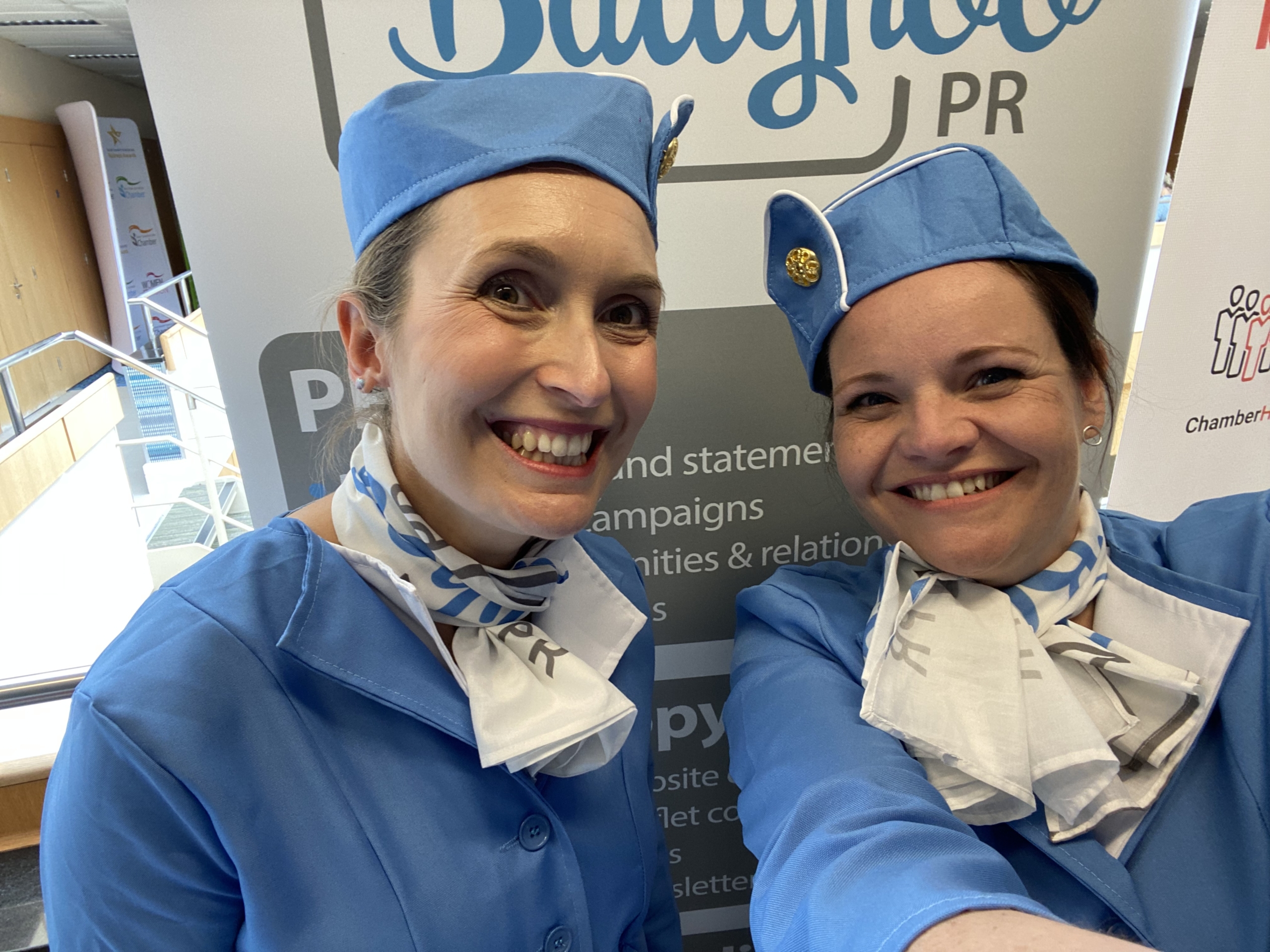 Today saw the Ballyhoo Crew become the Ballyhoo Cabin Crew for the day as we launched the Ballyhoo PR Academy at the MK Chamber Business Showcase at Kents Hill Park Training and Conference Centre.
Set to a travel theme, our stand was all about taking prospective students on their 'PR journey' and equipping them with the tools and knowledge to go off and fly and do their PR for themselves.
The stand – and beach selfie station complete with holiday props – was a firm hit with visitors to the showcase event in Milton Keynes, as was our Holiday Checklist challenge, which saw participants travel around the exhibition armed with a pen and checklist to find pictures of holiday items hidden by other stand holders. Those who completed the challenge were entered into a prize draw to win a place on the Ballyhoo PR Academy when it launches in September.
The Ballyhoo PR Academy was due to launch in 2020 but was postponed due to the Covid pandemic.
The pilot intake will now begin this September and will run for six sessions, each focussing on a different element of public relations: how to get media ready, formulating a PR plan, writing a press release, pitching to the media, crisis management, and what to do with press coverage to promote your business. These will be monthly classes culminating with a graduation ceremony after the last workshop in February 2023.
Classes are designed for business owners or those working in marketing roles for a small or medium-sized business (SMEs) and have responsibility for generating press coverage for the company.
Numbers will be kept to a maximum of six people to allow everyone to get advice tailored to them and their business. This group of students will also get to know each other and develop relationships as the course progresses.
Companies can join the pilot intake at a significantly reduced rate of £600 + VAT for the course – the equivalent of £100 a class. All classes will be taught at Ballyhoo PR's picturesque Lamport office in Northamptonshire and the sessions include lunch.
Emma Speirs, director of Ballyhoo PR, will be running the Academy. She said: "The Ballyhoo PR Academy has been an idea in my head for a long time now and I am pleased to be able to finally see it come to fruition.
"One of the reasons I set up Ballyhoo PR was to help SMEs to share their stories and shout about their successes. Obviously, we can manage this for businesses through Ballyhoo PR, but a retainer contract arrangement isn't always appropriate for everyone.
"I wanted to take a small group of people and work with them over a period of a few months and give them the tools and knowledge to be able to achieve results with PR for themselves."
To register your interest, contact emma.speirs@ballyhoo-pr.co.uk.
Latest Articles
Are you… Terrific at Tik Tok? Incredible at Instagram? Fabulous at Facebook? Then we want to hear from you. We ...